The impact of Synchro, beyond a video wall
por Marketing nsign.tv en Nov 20, 2023 3:17:06 PM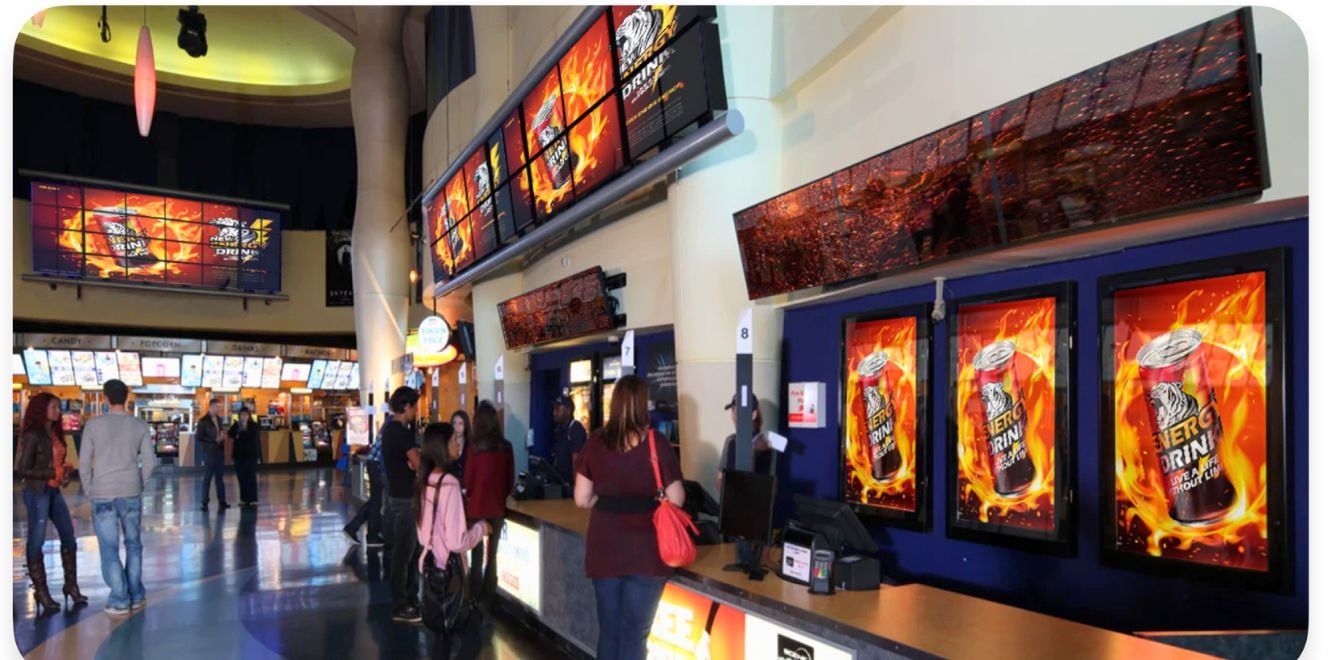 Screen synchronisation, known at nsign.tv as the "Woow Effect", is a very powerful tool that not only allows content to be broadcast simultaneously on different screens, but also extends the playback formats to create immersive spaces, making the user feel immersed in another place.
Megabanners, are a commonly used format for expanding advertising space horizontally, often achieved by installing multiple screens side-by-side. This format is also popular for menu boards, where creativity and a deep understanding of the product or service being offered are key. To balance the compositions, screens can be coordinated in various combinations: if there are five screens, they can all be coordinated, or just the two in the middle or in the corners, there are no rules, and emissions can be continuous or discontinuous.

The Woow effect's capacity to simulate a video wall is common knowledge. However, nsign.tv's advantage lies in the ability to link various multi-brand conventional devices, including non-professional monitors, LEDs, smartphones, tablets, and AIO (All in One), which can be connected to a SOC or integrated media player. This can facilitate resolution changes from native full HD or 4K to higher resolutions without requiring hardware changes or additional facilities. The devices only need to be connected to the same local network through the internet.


However, this is not the only potential outcome. Simultaneity can create unexpected visual effects using monitors that are not joined and/or have different orientations in linear or unstructured installations. The crucial factor is that they are in the same location to generate an impression for the audience. This functionality provides a great deal of versatility, and the more screens there are, the more opportunities there are for creative output. It is also fully replicable using the Mirror Functionality on the platform, as the identical installation structure can be extended to other physical locations.

Imagine a space for commercial purposes, such as a shop, a display area, a lecture hall, or an exhibition room where the exhibits are presented in various orientations. The exhibits present information about distinct goods, an artist speaking or works of art themselves. Every 5-10 minutes, depending on the audience's flow, a message will play in harmony with the surroundings to announce a remarkable service or showcase a composition with an extract from a work of art. Do you find this concept attractive?


How does it work in terms of content?

When working with graphic or video editing software, it is crucial to accurately replicate the layout of the design, including any sequences. It may also be necessary to consider the gaps between screens if they are not connected, in addition to the entire timeline and complete resolution of all aspects.

After producing the content, the editor divides it by screen resolution and exports it to digital signage formats such as jpg, png, and mp4. Next, the content is uploaded to a cloud platform and included in independent playlists. Finally, the composition is joined in the Sync Studio Module and the screens are grouped together for broadcast.


To simulcast content with the Sync Module it is important to consider the 1) customer journey, 2) the physical space, 3) the screen (its resolution and orientation), 4) the installation and 5) the content.

Synchros not only challenge the visual norm, but increase creative power to unexplored levels. From merging with audience interactions through IoT connections to creating an immersive ambient experience, even when screens are not in full view or spaces are not filled. These compositions challenge convention with striking resolutions and out-of-the-ordinary structures that seek to transcend ordinary perception and captivate at strategic moments.

About Nsign.tv
Nsign.tv is a complete digital signage platform allowing brands and retailers to connect and interact in a user-friendly and intuitive way with audiences in physical spaces. nsign.tv offers a measurable, centralized form of storing, organizing, programming and reproducing digital contents on any screen, flexibly integrating in scalable digitization projects through AI, Big Data and IoT to ensure differential experiences with clients and users in any physical environment. Based in Barcelona with delegations in Madrid, Valencia, Miami and Mexico City and certified partners in most European and Latin American countries and the USA, nsign.tv manages over 50 million digital assets in more than 50,000 connected devices in 25 countries around the world, and over 2000 users, 150 leading brands and retailers from various sectors like Ikea, Areas, Nespresso, Coca Cola Europacific Partners, Haribo, Unilever, Revlon, P&G, Domino's Pizza, Spar, Aldi, Electronic Arts and Cinépolis, among many others.