Overcoming barriers in the restaurant industry: the digitalisation of menu boards with nsign.tv
por Marketing nsign.tv en Sep 22, 2023 1:19:34 PM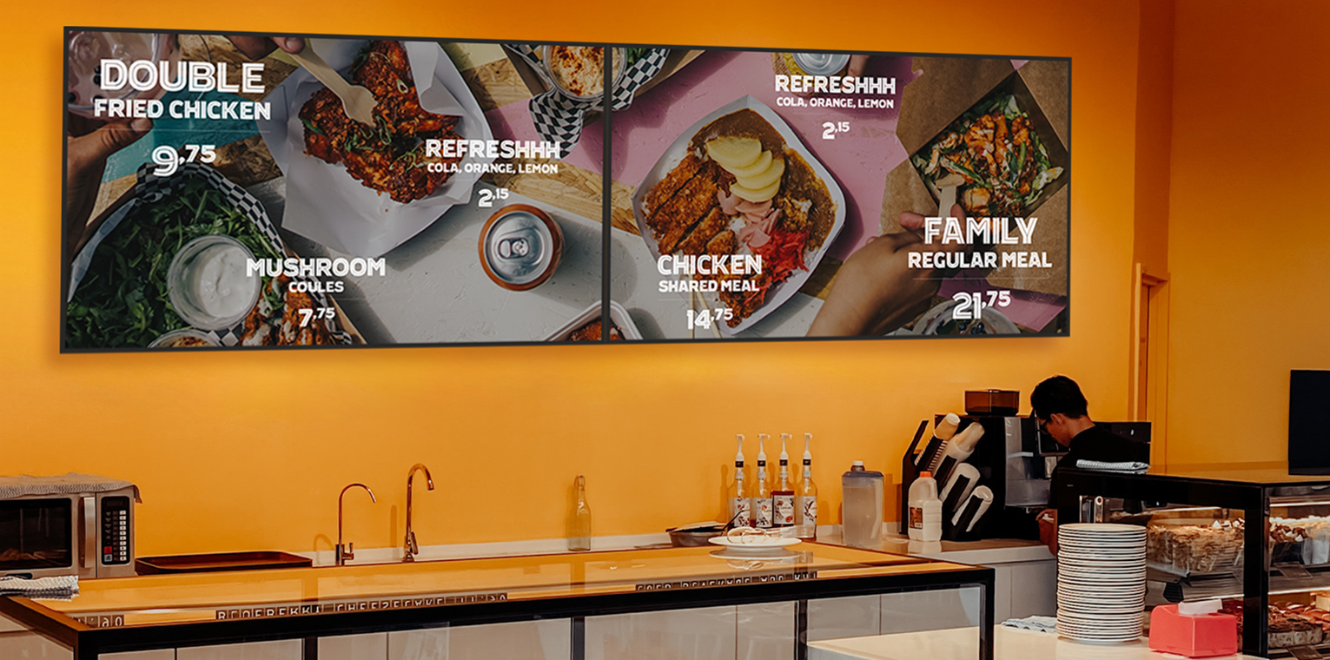 In the never-ending drive to improve performance in the gastronomic industry, the digitalisation of menu boards with nsign.tv is proving to be a powerful advantage in the foodservice sector. A change that not only transforms, but drives business success.
The main benefits of the digitalisation of menu boards with the nsign.tv platform in the foodservice sector impact on the ability to positively transform commercial results, mainly thanks to: 1) its simple and intuitive interface to manage price and content changes in real time, and 2) its ability to personalise the audience experience, capture their attention and increase sales.

According to a study carried out by ConectadHOS on the digitalisation of the hospitality sector in Spain, "for almost half of hoteliers, digitalisation is useful to increase sales through visual tools and to offer innovative experiences through the online world".
nsign.tv is a driving force in the digitalisation of bars, cafes and restaurants and is widely recognised by those who want to lead the market, thanks to its extensive experience in the creation and implementation of digital menu boards, the essential component for displaying available and promoted products, enabling a direct and unmediated dialogue with the customer.
With nsign.tv you can create your own digital signage ecosystem that suits your needs, taking into account the customer journey, infrastructure and type of hardware at the point of sale, be it LCD, touch screen, LED, totems, kiosks, interactive menus on smartphones, tablets and even projectors and holograms.

Platform solutions and benefits

The platform has solutions for QSR (Quick Service Restaurant) and very competitive advantages such as

1) A user-friendly interface to organise and upload content such as videos, images, audio, HTML5 (applets) and URLs.
2) Layout configurator to split screens and optimise your productivity.
3) Schedule time slots for any time, planned or quickly replaceable in case of an unforeseen event.
4) Remote control and monitoring of screen status.
The star ingredient, content

It is impossible to continue talking about digital signage projects without referring to the main ingredient, content, which captivates and holds the attention of the audience on any device or screen.

For nsign.tv, well-balanced, attractive and dynamic content is the perfect combination to improve decision-making, help segment the offer with clarity and create the need and desire to enjoy a gastronomic proposal.

Applets, dynamic content

The concept of applets has taken HTML5 content to a new level, as they can include images, video, text, URLs, motion, transitions, etc. with a spectacular design. In addition, they can be easily edited by the user from the platform or even automatically synchronised with any type of external data source such as an ERP, CRM or other systems.
Synchros, touch kiosks and QR codes
In addition, nsign.tv has other powerful tools such as Synchro, the WOW effect, to create large format megabanners without the need for additional cables, virtually linking several conventional screens to capture the consumer's attention.

Touch kiosks and QR code generation with nsign.tv's native widgets add further autonomy for customers to explore the menu, promotions, prices and discounts on offer via URLs or applets that play on tablets or their own smartphones.
Audience management and IoT connectivity

The platform also has its own queuing system or can be integrated with other similar audience management systems and is able to communicate with various IoT hardware such as cameras, RFID, NFC, QR, sensors and voice recognition systems that can identify and control data to improve the user experience in venues.
Competitive pricing, support and nsign Academy to overcome market barriers

According to the study, "the main barriers for more than half of hoteliers, especially in bars, cafes and restaurants, are lack of budget and lack of knowledge and training".

To overcome these barriers, nsign.tv offers competitive and flexible prices, as well as different support alternatives through a network of international partners with the capacity to provide technical support in an agile and efficient way, and a complete academy at different levels (basic, advanced and professional), with more than 30 exclusive courses and workshops to train in the fascinating universe of digital signage.
About Nsign.tv
Nsign.tv is a complete digital signage platform that allows brands and organisations to connect and interact with their audiences in physical spaces in a very friendly and intuitive way. Nsign.tv stores, organises, schedules and plays digital content in a measurable, centralised way and on any screen, integrating with total flexibility in scalable digitalisation projects through AI, Big Data and IoT to create differentiated experiences with customers and employees in any physical space. Headquartered in Barcelona, with offices in Madrid, Valencia, Miami and Mexico City, and certified partners in most countries in Europe, Latin America and the United States, Nsign.tv manages more than 50 million digital assets in more than 30 countries. Nsign.tv manages more than 50 million digital assets on more than 30,000 connected devices in more than 25 countries around the world and more than 2,000 users, 150 brands and retailers from different sectors such as Ikea, Areas, Nespresso, Coca Cola Europa Pacific Partners, Haribo, Unilever, Revlon, P&G, Domino's Pizza, Spar, Aldi, Electronic Arts and Cinépolis, among many others.