luk hiar! uses nsign.tv for digital signage in the new HLA International Clinic in Barcelona
por Marketing nsign.tv en Apr 25, 2023 3:44:37 PM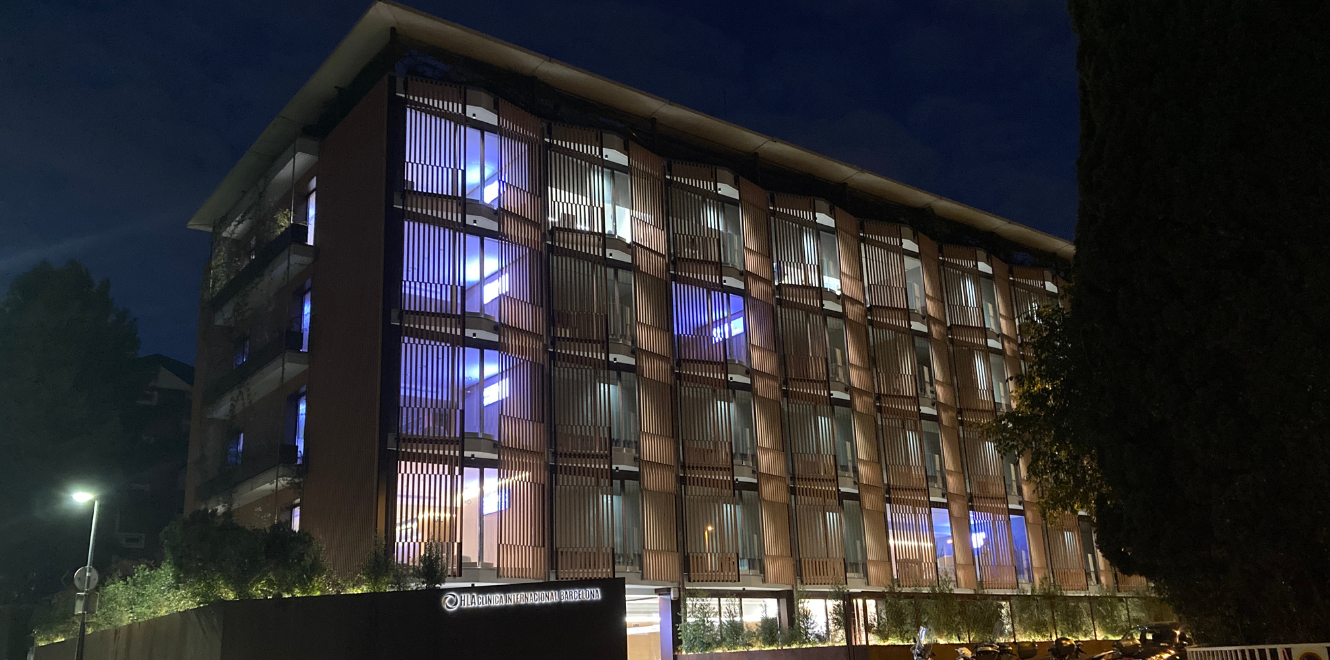 The integrator equipped the city's new HLA clinic with a spectacular installation of 28 LED screens, with nsign.tv software as the network's brain.


The new HLA International Clinic in Barcelona is equipped with an innovative digital signage circuit of around thirty LED screens, making it a unique installation of its kind in a medical center. The integration was carried out by luk hiar!, who chose the nsign.tv software platform for the central management of the display network.
The new building, with four floors and three basements over a surface area of more than 6500 square meters, is HLA's second medical center in Barcelona and covers more than twenty different specialties. A new benchmark in innovative care, it is also a reference in urban sustainability, designed and built with sustainable architecture and materials.
"It is a luxurious building with very sophisticated architecture and the highest quality materials," explained Jorge Luna, Managing Director of luk hiar!, a company that specializes in the design and integration of digital visual communication solutions. " Therefore, the digital signage system had to live up to these high standards and integrate perfectly with the modern, sophisticated and different design of the building," he added.
In this regard, both the architect and the center's management did not want traditional LCD screens hanging on the walls, but rather an elegant, attractive and modern digital signage circuit to share information and content with patients in a dynamic way.
With this brief, luk hiar! designed a network based on LED hardware in various formats, sizes and technologies, including transparent LED screens, digital posters and modular flat screens, which are deployed in various spaces of the clinic, including waiting rooms, reception area, training rooms, corridors and lobbies.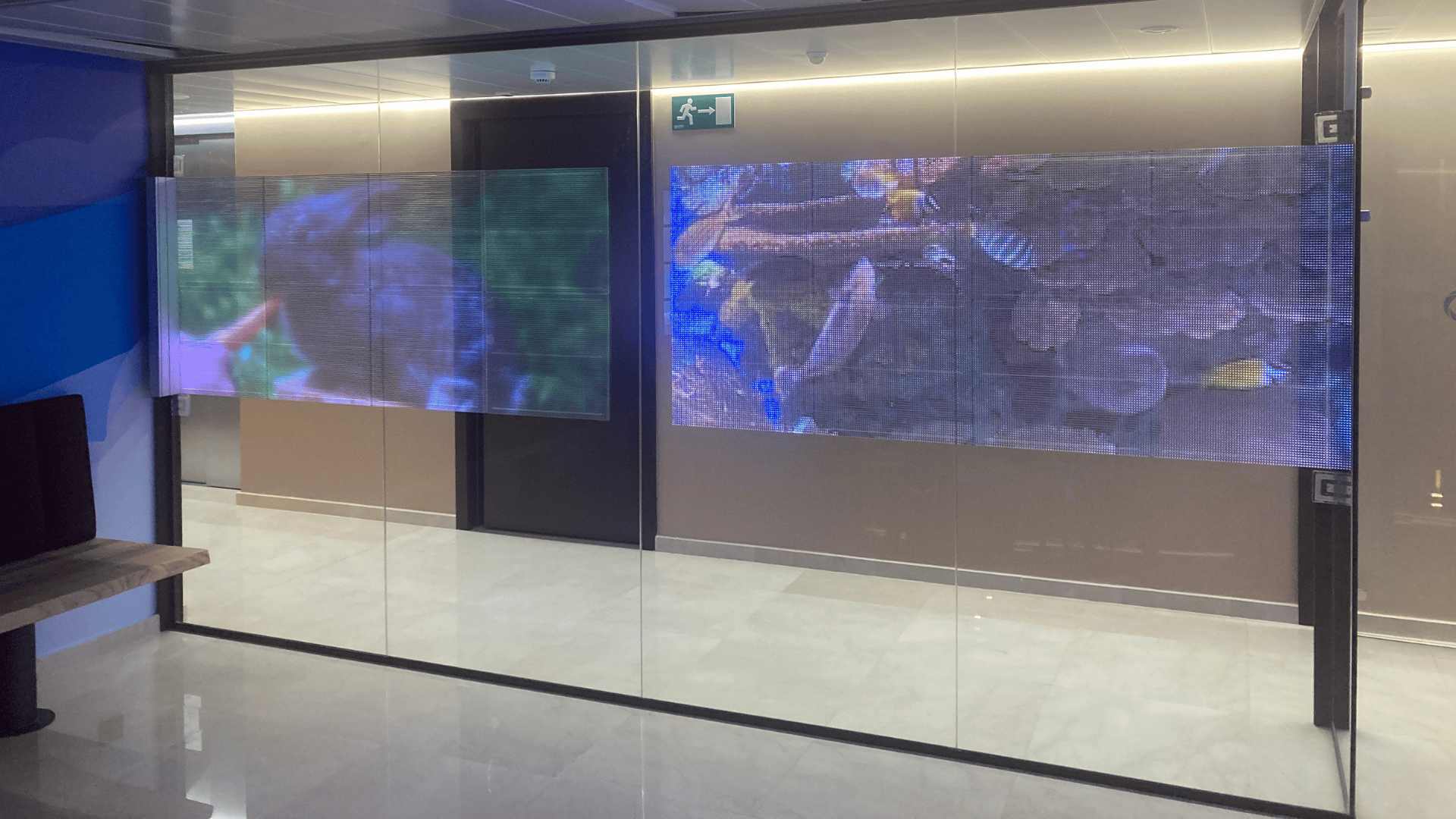 "LED technology offers excellent image resolution at a very competitive price and gave us the modular flexibility we needed to build displays of any shape and size in the clinic, creating a remarkable impact and adding a spectacular touch to the medical center," said the director of luk hiar!
The content of the 28 screens placed around the new clinic is centrally managed by 20 licenses of the nsign.tv software platform - an ideal solution for non-technical users. The platform acts as the brains of the network, managing the content schedule and synchronizing it in a simple and intuitive way.

"We chose nsign.tv for the project because it is a solution that allows for simple yet versatile management of all screens. The software is easy to use and allows the client to be self-sufficient if they wish, it is able to integrate different sources of information and can be used with any type of hardware," explains Jorge Luna.
With nsign.tv, the users of the hospital network can upload any content, program playlists easily and even automatically if desired, schedule the publication of playlists and assign them manually or automatically to different devices. At the same time, all devices can be controlled remotely.

The various displays throughout the clinic are used to welcome visitors and patients, make waiting time more bearable and pleasant with a variety of attractive content, provide health information and advice, play corporate and entertainment videos, and provide up-to-date information on the center's opening hours and the location of the various units and rooms. The clinic's rotation manager also uses nsign.tv to optimize the flow of public attention through the screens.
Among the various displays is a striking wavy LED, 5 meters long and 50 centimeters high, with a pixel pitch of 2.6 mm, located in the Doctor Espriu Training Room, where formative content is shown in tribute to Josep Espriu, a world ambassador for health cooperativism.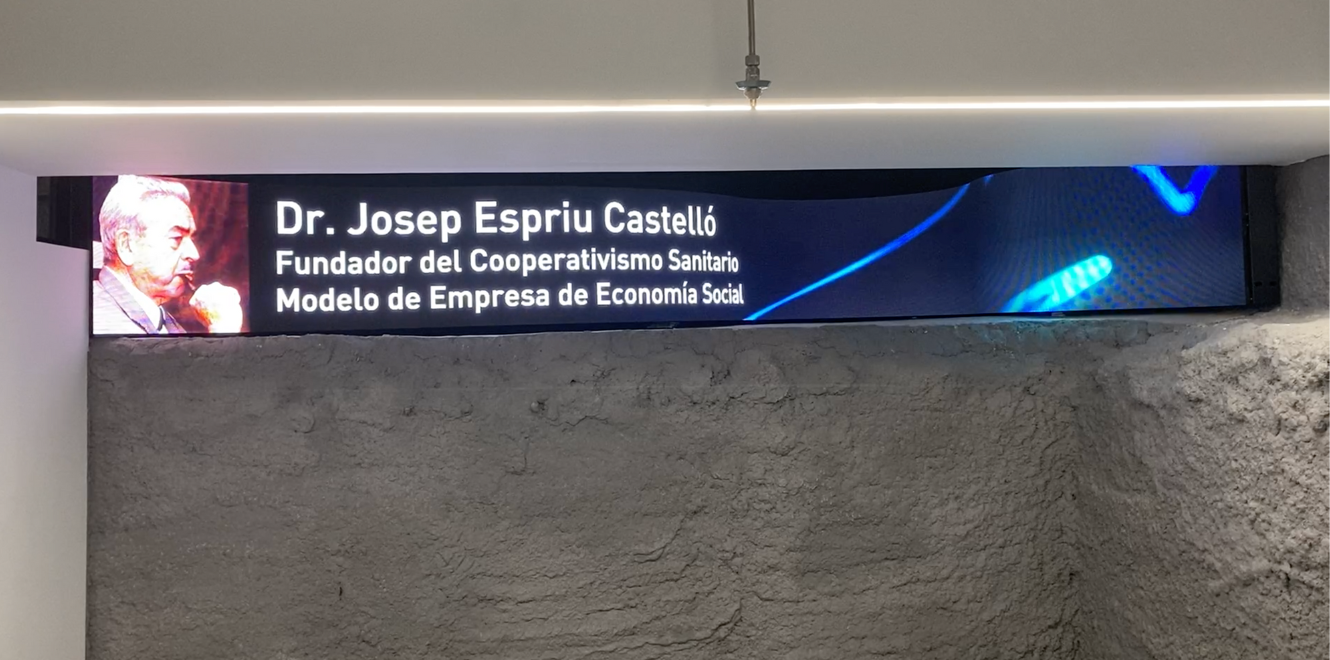 In addition, transparent LED screens measuring 4 meters long and 1 meter high have been installed on all the glass in the various waiting rooms of the clinic, as well as in the pediatrics and odontology departments, to display dynamic content. Also worthy of note is another spectacular transparent LED screen, 2 meters wide and 1 meter high, suspended from the ceiling in the reception area, perfectly integrated into its surroundings.

Made of flexible, light and easy to install panels, these semi-transparent polycarbonate LED screens can be placed on any glass surface and are semi-transparent when not in use, so they do not interrupt the view and add an elegant and surprising touch to the different rooms.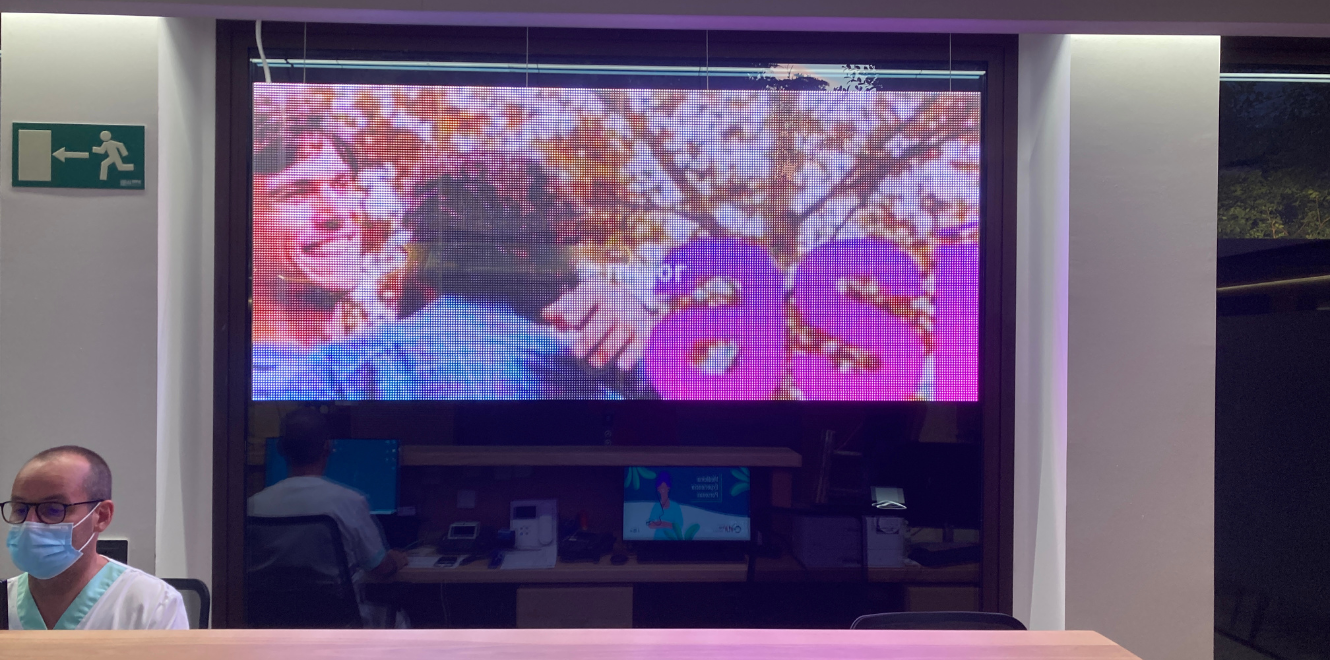 The digital signage network installed in the clinic is fully expandable thanks to the scalability of nsign.tv, which allows it to be used in an unlimited number of devices. In fact, luk hiar! will soon install a large LED HD screen, 2.5 meters wide and 1.5 meters high, with a pixel pitch of 1.8 mm, in the ground floor lobby.

The new network is a unique audiovisual installation in a hospital environment in Spain. "It is an innovative project and the truth is that the client was completely convinced by the network of displays that gives the clinic an absolutely different aesthetic", summarizes Jorge Luna, before concluding, "and they have already seen the versatility and management potential that the system allows thanks to the power of nsign.tv".

Toni Viñals, CEO of nsign.tv, said: "We are delighted that our technology has been chosen for such an emblematic project in Barcelona. Digital signage is an affordable and easy-to-install solution to improve the patient experience in hospitals, allowing us to control the day-to-day management of all the different screens with dynamic and attractive content, improving the image of the centers".

About Nsign.tv
Nsign.tv is a complete digital signage platform that allows brands and retailers to connect and interact with audiences in physical spaces in a user-friendly and intuitive way. nsign.tv offers a measurable, centralized form of storing, organizing, programming and reproducing digital content on any screen, flexibly integrated in scalable digitization projects through AI, Big Data and IoT to ensure differentiated experiences with customers and users in any physical environment. Headquartered in Barcelona, with delegations in Madrid, Valencia, Miami and Mexico City and certified partners in most European and Latin American countries and the USA, nsign.tv manages more than 50 million digital assets on more than 25,000 connected devices in 25 countries around the world and more than 2000 users, 150 leading brands and retailers from various sectors such as Ikea, Areas, Nespresso, Coca Cola Europacific Partners, Haribo, Unilever, Revlon, P&G, Domino's Pizza, Spar, Aldi, Electronic Arts and Cinépolis, among many others.