Applets, the unique and intelligent resource that comes to life for any business
por Marketing nsign.tv en Mar 10, 2023 10:18:45 AM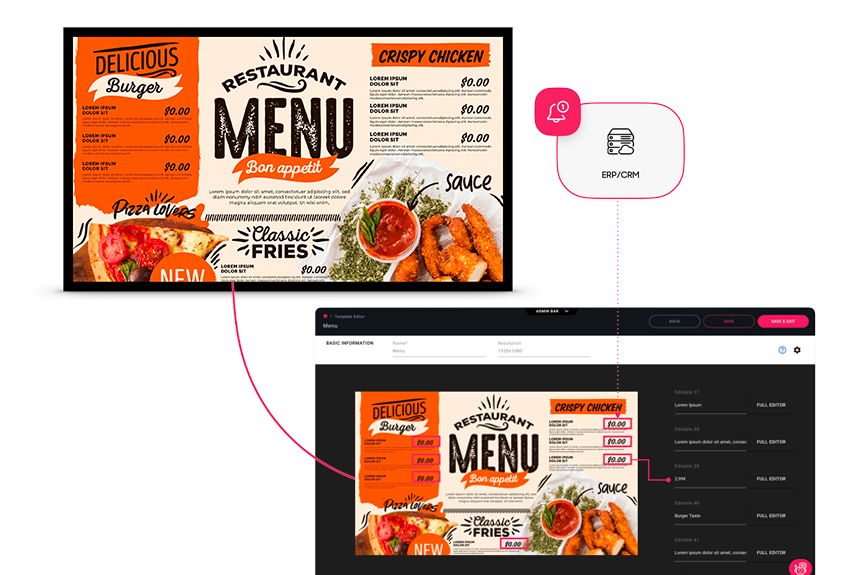 A few years ago, nsign.tv introduced the concept of the applet to the digital signage universe in order to offer unique, interactive, animated and customisable content on the screens of its clients, and quickly became one of the most popular resources, especially for its creative potential.


In the computing field, the expression applet has been known since the 1990s as a small executable program in various environments, especially web or software, later associated with the Java programming language as a tool to activate and generate actions to optimise interactions with the user.

Within the platform habitat, applets operate as micro-applications using the HTML5, CSS and Javascript languages, capable of responding manually or by programming to company-specific rules.

Customised templates that can be edited manually or automatically

With each brand's look and feel, code-generated applets support images, graphics, text, video, audio, URLs and animations, with responsive, dynamically modifiable zones, saving production time and costs.

Furthermore, applets can be easily edited by users on the platform or synchronised with external data sources such as: a CSS, .XML, FTP; an ERP (SAP, Oracle, etc.); a CRM (Hubspot, Salesforce, Sugar CRM), among others, and updated in an automated way, even without having to log in to nsign.tv, depending on the project.

Can be sorted by type / use or by vertical

In regards to the type of applet, there are infotainment applets for broadcasting news, weather, time, stock exchange, currency exchange, traffic, etc.; social media applets with integration to social networks such as Twitter, Instagram, Twitch, Youtube; and dynamic pricing applets for menu boards or promotions.

By vertical, nsign.tv has extensive experience in developing this content for supermarkets, healthcare, entertainment, banking, foodservice / QSR, education, hospitality, corporate and retail, including: brochure offers, services, products and promotions; loyalty offers (timetable, addresses, contact); slideshows or carousels; wayfinding directories, staff and service areas, emergency alerts; event agendas, activity listings; menu boards, catering services; social networks, Google Calendar; as well as sales projections or KPIS and welcome messages.

Why consider applets for your digital signage?
Thanks to their adaptability and dynamism, applets have become a fundamental resource that comes to life in any digital signage environment. Despite their complexity, their multiple possibilities and the combination of different variables make them informative and interactive, simple and powerful, where imagination is the only limit.